Our advance SMART series speaker technology is applied into our WiFi and PoE speakers. These speakers come in a standard speaker and a high powered speaker. Our technology also allows you to combine both WiFi and PoE speakers.
Wi-Fi Speaker System
The Wi-Fi SMART paging system is an excellent choice if you have a Wi-Fi network where you want to place the speakers. If you have a solid Wi-Fi network our system could be perfect for your facility.
The system comes with user-friendly software that enables you to communicate from a smartphone or a desktop that is on your Wi-Fi network. The system ships with a server module that resides on your network and is the brains of the system.
The server module, the speakers and the software make up the system. The systems allows for intercom capability and paging. It is built to provide an advance all in one system.
IP – PoE Speaker System
The SMART Power over Ethernet technology coupled with our audio networking engineering has produced a perfect paging system that will utilize your Ethernet network as the backbone of a reliable communication system for your facility.
With the option of standard or high-powered speakers in order to implement a paging and intercom system that provides for audio communications for day to day operational issues and for emergency communications.
The responsibilities of organizations to make live broadcast to execute pre-recorded message is mandatory for a number of entities. This system meets that demand.
Public Address Wireless Speakers
Our wireless speaker system operated on an approved FCC UHF wireless radio signal. This is a perfect solution for a small facility. The system works with an FCC approved transmitter.
The transmitter, wireless speakers and software are three components that make up this system. The system allows for paging of individual speakers or a group of speakers.
You can select either our standard speaker or our high-powered speaker. The standard speaker is a perfect speaker for a classroom or a conference room. The high-powered speaker is excellent for large rooms or very noise areas like a gymnasium speaker.
The Innovation Wireless PA Speakers are perfect for hearing crisp, clear Voice Communication and Tone Signaling, in all School & Facility applications. Requiring only standard electric, these Wireless Speakers are the ideal solution for eliminating expensive/costly wiring, or as a replacement to existing failed hard wired speakers. Accurately controlled and wirelessly coordinated using the PA Transmitter/software, announcements, class change and break notifications are easily generated, providing enhanced audibility, and reliability. Learn more.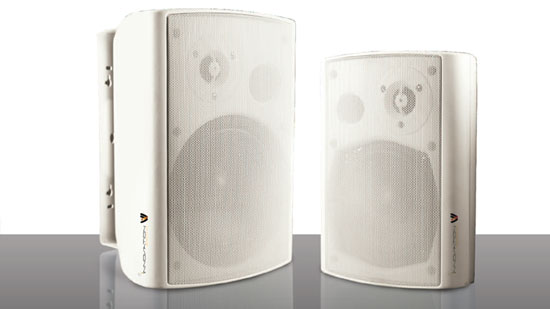 Features
Tone & Voice Communication
Two-Way Speakers
Multiple Zones
Selectable Volume (Manual and via Software)
Up to 30W and 50W Continuous Power
Strong/Secure Swivel Bracket (standard)
Recessed AC Power Supply Bracket (Optional)
Impact Resistant
Indoor Applications
Maintenance Free
Part Numbers:
PA Speaker
Part # 103007S (Standard)
PA Speaker
Part # 103007HP (High Power)
Special Mounting Bracket
Part # 103007B (Optional for Standard Speaker Only)
Establishing a public address system has never been easier than with our wireless public address speakers. We offer two different types of PA speakers. Our standard 30 watt speaker is ideal for a medium size room and our high power 50 watt speaker is ideal for larger gathering areas.
Installation of these speakers is simple and straightforward. The speakers require 110 volt wall current. The speaker's sturdy metal swivel bracket makes installation a snap. The metal swivel bracket can be mounted horizontal or vertical. The rotary clips teeth allow you to position the direction of the speaker and finger tighten the clips to provide a secure fit.
The pa speakers receive their broadcast wireless from the Public Address Transmitter. The transmitter broadcast announcements, a variety of tones or pre-recorded messages to a pa speaker or a group of pa speakers. The wireless public address system allows you to install as many speakers you need to ensure complete coverage of your facility.
Additionally, you can combine the standard 30 watt speakers with the high powered 50 watt speakers. This mix and match approach allows you to create a pa system that will ensure that your communications are crisp and clear throughout your organization.
Our wireless PA speakers allow you to place the speakers at the optimal location and then group the speakers so that you can create different zones within your organization. This permits you to broadcast to one area of your facility without disturbing the other areas of your facility.
Creating Zones is a powerful tool for any organization from a school to a manufacturing plant. The ability to broadcast to a separate wing of a manufacturing plant maintains operational efficiency throughout the plant. For example, the zoning of speakers can help to facilitate shift or break changes.
In a K-12 School environment zones can be created for different grade levels and then a variety of tones can be played to a certain zone at specific times. This is an efficient way to create class changes without distributing other classes. For example, if a class change is to take place for higher grades a bell tone can be played to the speakers located in the higher grades. Of course, this can be done with any type of announcement or event.
The public address system software is simple to use and very intuitive. Therefore, playing pre-recorded messages, tones or music over the loudspeaker system at a schedule time is simple to program and can be modified quickly to adapt to the situations of the day.
Additionally, you can load many different schedules and make them active on certain days. If you have a certain schedule of events that occurs on Monday, Wednesday and Fridays and a completely different schedule on Tuesday and Thursday you can accommodate both schedules during the week.
The other strong attribute about this system is its flexibility. As any organization goes through add, changes and renovations, wired public address system are inflexible. An IW system allows you to place a speaker anywhere within the broadcast area.