Innovation's Wireless clocks provide accurate, reliable synchronized time wirelessly. We offer the strongest most reliable UHF frequency for a wireless clock system.
Our UHF frequency is a 467 MHz system. This is a FCC certified system. This FCC certification protects your clock system against interference from other wireless devices. Today there are so many wireless devices and it is important to operate a wireless clock system with a FCC protected frequency.
The one item you do not want is interference from any other wireless devices this is why our customers prefer to have a FCC site license protecting their clock system from interference. The FCC license is for 10 years and is easily renewed for a nominal fee. We handle the paperwork to secure the license.
The wireless system is quite simple to install and once you place a clock at your location you will not have to touch it for 5 years to replace the batteries. If you select our electric clocks you will not have to change batteries.
We offer wireless clocks in analog and digital models. These clock lines include different sizes and the ability to custom logo these clocks to fit your organizational needs.
Commercial Clock Options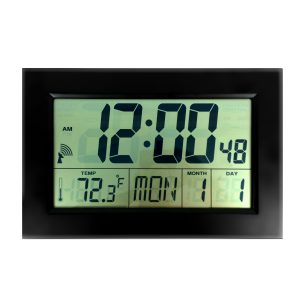 Our analog or standard Clocks are offered in a 13" and a 16" size. The 13" provides excellent viewing in classrooms, hallways, conference rooms, etc.… The 16" analog is excellent for large gathering areas or meeting areas.
Our Digital line of clocks is available in either red or white LEDs and in two different sizes. 2.5" or 4" size. The standard red LEDs are installed in many organizations but one of the strongest demands is for our white LEDs.
The LED sizes can be either 2.5 inches or 4 inches and they are offered in either four digits (HH:MM) or six digits (HH:MM:SS).
The UHF wireless system's master clock is the transmitter. The transmitter is a FCC certified communication device that is a plug and play device at your facility. The transmitter can use computer time or GPS time as a source for its accurate time. Once it receives the time it will broadcast the time throughout your facility so that all the time displays within your facility will display the same time all the time.
The system is a broadcast system so there is no need to design your system with repeaters or clocks acting as repeaters. That level of complication is eliminated with our five-watt 467Mhz broadcast frequency. The 467Mhz transmitter has 5 watts of broadcast power. At 5 watts we can cover approximately 350,000 square feet.
With our advance technology we are able to cover large campuses and multiple building with one system. We can accomplish this with our high power transmitter. This system is in place at a number of campuses in the Untied States.
School Clocks play an important part of the school day. A typical school day has a number of moving parts and accurate time is the glue that holds the day together.