Emergencies require a quick and clear response and a well-planned communication system can deliver a fast reaction to a situation.
Our Smart Network Emergency Switches are panic button alarms that are appropriate for many different types of facilities. We offer a one button and a three button option. We allow you to leverage existing WiFi or Ethernet infrastructure to communicate the type of emergency in a very efficient manner.
The panic button can connect using power over Ethernet technology. You can program the buttons to display specific messages to the LED Digital Message Boards or to execute pre-recorded audio messages.
The video below demonstrates how the Emergency Notification Switches interface with our multi-function message board.
The ability to have customizable alerts from specific events provides your organization with great flexibility. They have easy mounting options, which allow you to the ability to mount them virtually anywhere.
A lift cover is presented on both versions to avoid accidental activation. The power and status LEDs permit a easy visual view the state of the switch.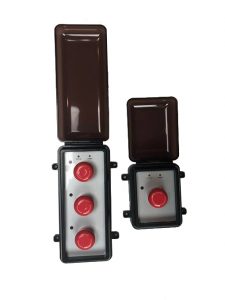 We offer a complete communication platform that allows you to integrate the switches into your audio speakers and message boards. All function are easily configured with our network based windows software allowing for easy control, monitoring and periodic testing.