Public Address Transmitter
The Innovation Wireless PA Transmitter is the perfect solution for broadcasting crisp, clear Voice Communication and Bell Tones, wirelessly, in all School & Facility applications. Accurately coordinated using the PA software, announcements, class change and break notifications are easily generated, creating enhanced audibility, and reliability. Learn more.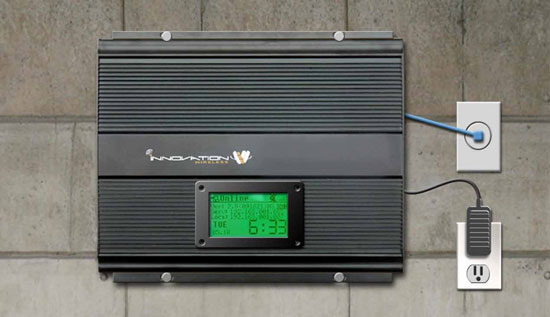 Features
Voice Communication (Broadcast Only)
Variable Bell Tones and/or Music
Accessible From Multiple PC's
Multiple Zone Capability
Programmable Schedules & Events (Via Software)
Widespread Facility Coverage
Volume Selectable (Via Software)
Easily Viewable LCD System Status
Wall or Shelf Mounting
Maintenance Free
Part Numbers:
PA Transmitter
Part # 101007
PA Scheduling Software
Part # 102007W
PA Microphone
Part # 103008 (Desktop)
Part # 103009 (Hand Held-Wireless)
Available Upon Request
Our public address transmitter operates on 461.6 – 466.8 UHF MHz Frequency Range with 5 watts of power. Our public address transmitter provides an organization a public address system that is wireless. The public address transmitter works in conjunction with our wireless speakers, thereby delivering a complete pa system.
In today's world many organizations are in the need of some type of loudspeaker system. The ability to response to emergencies that may occur are just as critical to an organization's health and well being as the need to broadcast daily operational communications.
Our knowledgeable sales people can design the system to cover your complete facility. The public address transmitter's broadcast area can be supplemented by a repeater (s) to ensure that an organization can place a wireless PA Speaker anywhere anytime. The flexibility that a wireless pa system delivers cannot be matched with respect to flexibility. Once the transmitter is set up and the coverage area has been determined the public address speakers can be placed anyplace.
Operating on 461 – 466 UHF MHz you can expect to receive no interference from other wireless communication products. This would include Wi-Fi Ethernet. The reason is that the FCC controls the use and the licensing of all frequencies in the United States. As such when we sell our wireless public address system we also secure a FCC license.  Our wireless Wi-Fi PA System does not need a FCC license because it operates on standard Wi-Fi.
This 10 year renewable FCC license is inexpensive and is included in your purchase. This FCC license provides a guarantee to you that nobody can operate the same frequency in your surrounding area and interfere with your broadcast. Additionally, because we can broadcast on numerous channels within our frequency band your broadcast can be tuned to the ideal channel for your organization.
The PA transmitter should be placed in a central location to the broadcast area and connected to your Ethernet Network. This simple installation enables you to get your pa system up and operational quickly. The next step of the installation is the placement of the pa speakers. The wireless PA speaker only requires 110 volt wall current to operate. We offer two types of speakers a standard speaker which is typically used for a classroom and a high powered speaker which is used for large gathering areas.
The transmitter allows you to create multiple zones or groups. The windows based software allows you to group or zone the speakers thereby pinpointing your broadcast to the exact speakers within your organization.
The PA can be uses for different types of audio files. The software permits you to play music over a PA speaker or PA speakers. Additionally, the software allows you to schedule a variety of tones, or pre-recorded messages to all the speakers or to just a certain group of speakers.
The PA controller is the transmitter. It is the engine of the wireless audio system and the software allows you the ease of use thereby providing you the flexibility to custom make the pa system to fit your organization.
The transmitter can be mounted to a wall or it can sit on a transmitter shelf. The software can reside on one or multiple window based computers that are connected to the computer network. In order to get a quick quote please fill out the quick quote form on this page.