PoE Message Boards
Our IP – Poe Message Boards are vital for communicating safety messages, announcements and upcoming events throughout your school, campus, manufacturing plant, healthcare facility or corporate offices.
We offer three different types of message boards; a single line board, a large double line board and a multi-functional board. This technology allows you to display not only messages but also the time, date and day.
We offer the boards as a single and dual line display. Determine what size is best for your facility. You can also mix and match them so you end up with the exact size for the area the board is located.
You can play recorded messages. These messages can be emergency type of messages or a standard message that needs to be played at a scheduled time. An example of an emergency message would be "LOCKDOWN". When a lockdown condition occurs simply execute that message and it will be displayed on all your boards.
You are able to group or zone messages to certain boards with the PoE Software this allows you to tailor your messages to particular units or locations.
Small LED Message Board
The single line board will display time in a number of different formats and display messages. The time will be accurate synchronized time because it will use a reliable time source.
The time source is always the starting point for synchronized time. You will have the option of using the time provided from a government source on the internet or from an in-house network time protocol server which resides on your Ethernet Network.
The messages you what to display on your single line board will be executed from the application software which resides on the communication server module and is accessed via a browser.
The communication server module is the hub that will direct all the communications for the message boards. It is important to note that the message boards and the server module must reside on the same network in order to talk to each other.
You can have choice or canned messages pre-recorded and stored on the system. This allows for quick retrieval and display onto the single line board. These would be normal type of messages. An example would be "LOCKDOWN". When a lockdown condition occurs simply execute that message and it will be displayed. Click here: Small LED message board to learn even more.
You can also display real time message by just typing in the desired message in the software. You are able to group or zone messages to certain boards. This allows you to tailor your messages to particular units or locations.
Large LED Message Board
Our large LED message board can function as a double line or a single line message board. This board has the largest area to visually display the messages.
It is the perfect board for so many different room sizes or hallways. The ability to display messages in a double line or single line format is a highly regarded feature of the message board.
It can be combined with our other message board to allow you to select the correct board for the room and application. All the boards will be controlled by application software that resides on the communication server module.
The software is accessed by a browser by typing in the IP address of the server. Users can be assigned different user permissions based on their responsibilities within the organization.
Multi Function LED Message Board
Our multi-function message board is highly regarded because of its ability to communicate with text messages, audio and strobe light.
Text messages can be displayed in a single or double line format. When the board is not displaying messages it will display accurate, reliable synchronized time.
Synchronized time is a strong feature for the system. All message boards will display the same messages all the time. This feature is attractive not only to K-12 schools but to higher education, manufacturing and warehousing.
See if the Multi-function message board has the features and benefits you need for your organization, please go to Multi-function LED Message Boards.
LED Message Boards Functions
We use Tri-Color LEDs in our units. This allows you to display messages in Red, Green and Orange. The brightness can be adjusted to the room where the display board is located. Additionally, the messages can be displayed in static or at a scrolling speed. There is virtually no maintenance with this state of the art system.
One of the time benefits of these displays will automatically adjust for daylight saving time both in the spring and in the fall.
Digital Brochure

Please download our Digital brochure to learn more about our different systems. Our digital brochure contains additional specifications about this exciting product line.
Need Help Finding The Right Digital Messaging System?
Do you need help finding the right synchronized communication system? Contact us today.  At Innovation Wireless we have over 30 years of expertise in synchronized communications for schools, hospitals, office buildings and institutions.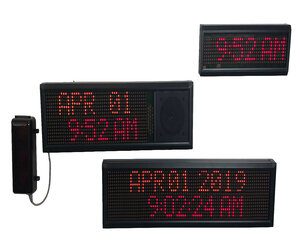 We can easily provide to you with our recommendations for best practices. Our experience will ensure that we solve your problems or needs in the most economical approach.
Our IP-PoE product line includes many complimentary products that can provide your organization with the ability to have synchronized time and communications. Our synchronized systems include speaker systems, emergency network switches, analog and digital clocks.
Please communicate with us on your needs and we will design a communication system that will be tailored to your exact needs.